Exciting news to share: "Vacation Hiro" is now an amazon.com best selling book! Through a BookBub advertisement of the special 99 cent price on Book 2 in the Cats in the Mirror series, almost 400 copies of "Vacation Hiro" were sold over a three day period. This bumped it up above all the other children's cat books listed on amazon.com (including the Warrior series and Pete the Cat) and held it there for a few days.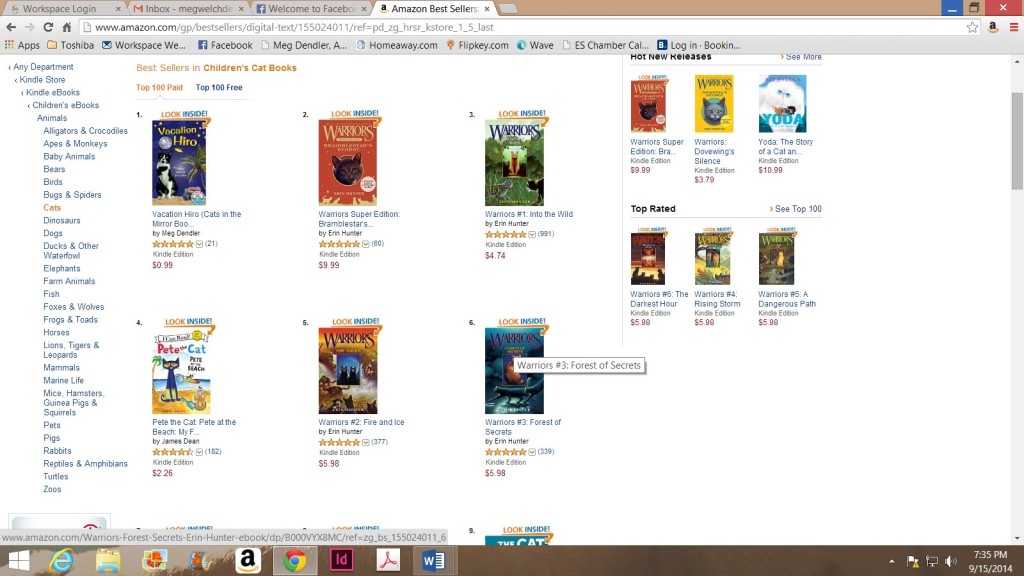 For any other writers who may have considered placing an ad with BookBub, I highly recommend it. When I did a free promotion for "Why Kimba Saved The World" back in April, 14,000 copies were picked up. Their children's list is one of the smaller ones, so results can be even better if you are marketing an adult book. If your goal is new readers, especially for a series of books, these ads are gold–and a bit hard to get. Make sure you request the ad exactly 30 days before you want to run it. You can't do it sooner, but if you are even a day later the slots will be filled up. And one rejection doesn't mean you won't be accepted the next time. Check out their web site for advice and requirements.
I also want to take a moment to thank two bloggers for their kind reviews of "Miss Fatty Cat's Revenge" this week. Stephanie at Cover2CoverBlog said: "As always, Dendler did a wonderful job making the cats very cat-like as well as characters in this grand story. I really like the mix of the sci-fi genre with a cast of cats–it makes for an interesting and playful plot every time." And Erik at This Kid Reviews Books said: "This is a really well done book. I think that it is pretty cool, in the sense of space-traveling cats with technology that surpasses ours. Plus, the title made me laugh out loud. The series is good, and consistent. I like that the characters' have just the right amount of "maturing" throughout each book. Kimba and Hiro are nice characters that you care for, and you even understand how Miss Fatty Cat feels. Ms. Dendler really helps you get into the head of the characters! She has written a good, unique book!" He has a devoted and supportive following, so I'm always grateful when he shares my books with them.
To return that type of favor on a universal level, I want to share a fantastic book that I just finished: "The Categorical Universe of Candice Phee." I won an Advanced Reader copy of this book from Goodreads, and it was absolutely delightful and filled with literal laugh-out-loud moments. I highly recommend this for everyone, even though it is intended for a young YA audience. Teenagers will miss things that adults will find even funnier. Kind of like watching the Shrek movies with a child. Candice is quirky and troubled and sees the world in a frank and hilarious light. Here's a more series tidbit from the book to give you an idea of the style and voice. Candice is in a fast food restaurant.
"I looked at my hamburger, which bore no resemblance to the picture over the counter. That burger was gorgeous. It was a pin-up burger. It gleamed. The lettuce had sparkles of fresh, pure water. The meat was succulent. What sat on my plate was thin, pale, and resembled something you might stand on when crossing a farmer's field. I took a fry and thought about life's unfairness. They promise you the world (or in this case a pin-up burger), and you end up with poop. This was profound, even if I had no idea who 'they' were. I wondered if profound thoughts happened often when you hit thirteen."
Highly Recommend!
This afternoon I'm heading off to the Cat Fancier's Show in Joplin, Missouri, to share my books. Let's hope they like rescue mutt cats as well as pedigreed show cats. More on that, some big news, and a new member of the Cats in the Mirror family who adopted us this week in my next blog. Yes, another cat. We are pretty sure she was sent to us specifically. That's how it works, you know.