Order signed paperback and hardcover copies now at this link.
Kindle orders available at this link.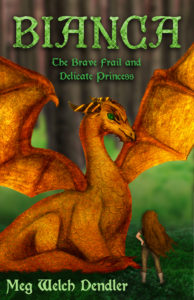 "Princess Bianca rules, in every way! This tale of intrepid discovery and determination will delight young readers and will dare those who deal with the dragons of self-doubt, frustration, and bullying to step out and challenge those menaces to a duel." New England Children's Book Review — listed as a "favorite"

"Runs to surprising depths . . . spry and charming . . . exquisitely characterized animals. Bianca, all told, is a memorable middle-grade heroine . . .

and Sammy the donkey will live long in young memory."

Kirkus Reviews
"Dendler's writing is smooth and accessible with small details of lavish castle living and fairy tale adventure that readers on the younger end of the middle-grade spectrum are likely to savor. Princess Bianca–as she proves herself to be brave and independent rather than coddled and frail–will be a strong draw for reluctant readers."

BookLife
Princess Bianca had never set foot outside the castle walls. Not once in her over-protected, pink, fluffy life. But when a dragon was spotted in the land and fear spread that the monster had conquered the king and his brave knights, Bianca realized that it was her duty to protect her kingdom. She will have to prove that she can be braver and stronger than anyone believed because the threat outside the protection of her castle tower was more dangerous and magical than she ever imagined possible, except in a fairy tale.
Upcoming Events:
April 21             Bella Vista Library Author Showcase, Bella Vista, AR  10:00 am -12:00 pm
April 28 & 29   Old Timers Day Festival, Van Buren, Arkansas
May 3                Career Day/Author Visit at Northside Elementary, Rogers Arkansas, 8:00 am – 1:00 pm
May 4 & 5        OWFI Conference, Oklahoma City (attending only, Bianca in book store)
May 9               School Visit at Eureka Springs Elementary School
Oct. 13 & 14   Van Buren Fall Festival, Van Buren, Arkansas
Oct. 18-21      War Eagle Fall Craft Fair, War Eagle Arkansas
SET FOR PUBLICATION:
"Kimba's Christmas" — (Book 5 in the Cats in the Mirror series)
"Snickerdoodle, Special Agent" — (Book 6 in the Cats in the Mirror series)
Bianca II (Book 2 in the Princess Bianca series, untitled)
"Not Quite Serenity" — (Adult humor/memoir)