With the biggest turnout of guests that any of the regular vendors could remember, this weekend's Ozark Mountain Cat Fancier's Event in Joplin, Missouri, was a huge success. I'm so glad this was the year I had a booth there!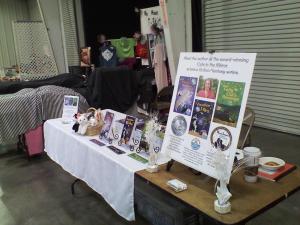 The guests and the owners of the cats entered into the show all loved the Cats in the Mirror books and several left with a full set. The title "Miss Fatty Cat's Revenge" got lots of attention, and I heard story after story of much loved fat cats along the way.
There was time before the public arrived each day to tour around and see all of the beautiful cats being prepared for their show time. Any time someone suggested that I should have brought one of mine, I had visions of those cartoon cats with their claws stuck in the ceiling. I love my fur babies, but none of them care to be brushed much less have Q-tips in their ears and eyes.
On my side of the hall, Maine Coons were everywhere. Now I don't mean ones like Buddy and others I have seen over the years. These were some massive cats! If I understood it correctly, they were not even full grown. Yikes!
Right across from me were the Rose Petals Maine Coon Cats who are "raised lovingly underfoot." I couldn't see much of the show, but I hope they did well. Karen Rose went home with the whole series of books, so she is clearly a wise woman who appreciates great literature. There were also some gorgeous Bengal cats who looked like they should be prowling the jungle somewhere far away.
I wasn't the only author there. Jerome Tonneson has a beautiful book about his cat Buttercup and I saw copies in lots of hands. We didn't have much time to chat, but they look adorable. Check them out at amazon.com and Jerome's web site.
I'm so glad they had a successful show and the cats got to strut their stuff. It was definitely a new experience for me. I'm grateful that there are folks out there willing to pay $850 for the exact cat companion they want, but I'm also grateful for people like me that tend to get them off the streets instead. It was certainly a venue full of people who appreciated cats in all of their furry (and not so furry) delightfulness. I hope it fits into our schedule to attend again next year. It certainly gave me the motivation to get moving on the next books in the series!