Today is officially the publication day and Book Birthday for "Miss Fatty Cat's Revenge!" If you follow my blog, this book is not big news for you, and if you follow me on other social media you are more than aware that this is the big day. Book releases and Book Birthdays are not subtle events!
Personalized and autographed paperback are also available here at my website, so just look for the shopping cart on the right hand column or go to the Purchase Books page.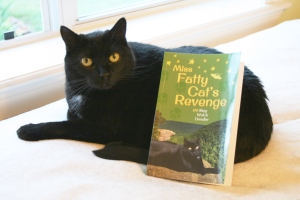 Today is also Samantha's (aka Miss Fatty Cat) 9th birthday. She is not sure what all the fuss is about as far as the book goes, but she's hoping for some extra food and love today. I'm sure "Leia" will take care of that. You can celebrate with special prices on "Why Kimba Saved The World" (FREE) and "Vacation Hiro" (99 cents) too.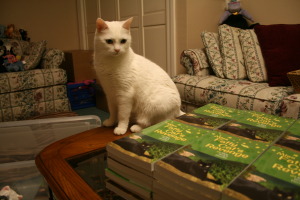 Kimba is not too sure about this nonsense about a book that doesn't have her image on the cover, but I have assured her that it is still all about her and the adventures that she has at Turpentine Creek Wildlife Refuge. Convincing her that I should spend time on "Max's Wild Night" where she will only be a side note is a different challenge altogether. Maybe we can distract her with Disney plush toys. Buzz Lightyear was waiting for me this morning on the floor outside my office, so he must have gone for a wild ride. To infinity and beyond, indeed!
I'm really grateful to the bloggers who have supported today's book launch. I didn't reach out to as many this time, but most that I contacted answered the call at one time or another in the process. Some have already posted reviews, and I've shared them. Today Chris at The Story Reading Ape share a nice interview with me and information about all three books, and Johanna Rae shared a separate interview at her blog. There are a couple of others scheduled that have not been published, so I'll just have to share them when they come out.
Summer is busy with our guest house business, but fall is when the book tours and fun really get going. There is something nearly every weekend, and I'm so excited to get back out and share the Cats in the Mirror series face to face with new readers and talk with fans. On Sept. 20th & 21st, "Leia" and I will be in Joplin for the Cat Fancier's show, and September 27th we will be at the Springdale Library for their annual author event. I'm sure I'll be blogging about that cat show! I'm also participating in two blog tours for other authors this month. Stay tuned!