First, I don't usually post on the weekend, but "Why Kimba Saved The World" is free on kindle Aug. 30th & 31st. Making sure to get that out there spurred me on. Who doesn't love free books? I'm betting most anyone bothering to follow this blog already has a copy, but you can certainly tell your friends and get them hooked on the series as well! Click here for the amazon.com link.
Okay, that said we can move on to what's new. Some big exciting news is that we have a new feline grandfurbaby. "Mindy" felt that Tabitha was lonely, so she and her roommate adopted a kitten from Good Shepherd Humane Society in Eureka Springs. Here's the latest photo in my brag book.
Wait. Let's get a close up of that face…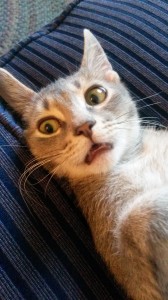 From the reports I'm getting, that look about sums it up. He's a wild boy and loves to try to steal their food. Tabitha has ceased making terrifying noises any time he comes close, and "Mindy" found them on the sofa together. Hopefully they can become friends once that kitten energy runs out. Yes, I now have a new character for Book 4 ("Slinky Steps Out") and even more plot ideas. I can't call him Rhaego. There might be come copyright issues there. Besides, it's hard for kids to read, let alone pronounce. The shelter had named him Willow, so that's probably what I'll stick with. Where will he fall into the alien agent hierarchy? You'll have to wait until next summer to find out!
I have a couple of books to recommend: "Noisy Creek" by Pamela Foster and "Thursdays at Coconuts" by Beth Carter. Just the covers alone are so inviting! I freely admit that I know both authors, and they are delightful women. That alone won't get me to read a book, however. I'm halfway through "Noisy Creek" and loving it. The first person voice Pam uses for this story is just fantastic. It even inspired me to try reworking a middle grade story in the first person for the main character, and I'm excited to play with that some. I was waiting for the paperback of "Thursdays at Coconuts," but I happened to win a free ebook copy through a blog tour giveaway so that's next up on the agenda. It just means I'll have to wrestle my husband's kindle away from him more often. I'll share the full reviews when I'm done. If only I could tuck away and read for hours.
All the contest entries for the Ozark Writer's League and the Ozark Creative Writer's Conference are done and submitted, but September doesn't leave much time for writing. Between the fall activity at our guest house, book events, and doing some substitute teaching ("Leia's" braces and "Mindy's" college tuition are not going to pay for themselves!) I'll be lucky to spend time doing some tweaking on "At the Corner of Magnetic and Main" before I start talking to High Hill Press about it again in October. I may just need to come up with some lock down time. It makes me grateful for a husband who can cook and isn't afraid of the vacuum cleaner.
I hope you each have a fantastic holiday weekend. I'm going to try to take some chill out time. Maybe hide away and read a bit. Maybe write a bit. You never know.