We had such a blast at the War Eagle Fall Craft Fair 2014! For four days (Oct. 16-19), a sea of humanity flowed past, and we sold more books per day than any other event we have ever done. Dozens of happy new readers signed up for my quarterly newsletter, and we had fun trying to keep track of how many people enjoyed my newest book title. About every 10 minutes someone would say "Miss Fatty Cat's Revenge" and laugh as they went by. Glad to know they appreciated it, even if it wasn't a book for them. There are apparently a whole lot of Miss Fatty Cat's out there.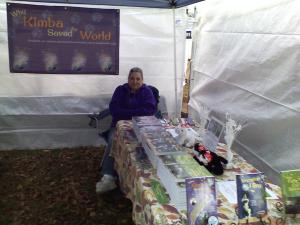 It was sooo cold in the morning, and we had to get set up before the sun for the 8:00 am opening time. We could see our breath every day until 10:00 am! This photo is only day one. The next three days I was better equipped with a warmer coat, hat, scarf, and gloves. Brrr. Probably because of the chill, traffic was a bit slow first thing in the morning, but we stuck it out for the thousands of people who came later in the day. Scott found it funny that we sold a set of books on the first day before we were even set up and sold a set of books at the last minute on the last day as we were just getting ready to close up shop. You never know when that perfect buyer will wander by!
What was especially interesting at this event was how many people bought the whole set without reading a word. I give my fantastic cover designer, Lesley Hollinger Vernon, credit for that. The covers got folks attention and got them to stop and find out more. Yay! I lost track of how many bookmarks we gave out so shoppers could download the kindle version. The response was just overwhelmingly positive.
A couple of fun moments:
*one young woman stopped at the sign, squealed, and clapped her hands over her mouth because she was so excited by the books. She bought a full set.
*a second grade girl read a page out loud to her mom to do the "five finger" test and see if she could read it to herself. She did pretty well, and just got hung up on a couple of words. I had hoped to start at a 2nd/3rd grade reading level, so it was a delight to see I was right on target. You know, I don't even remember if she bought a book. I was still pleased as punch to hear her reading it.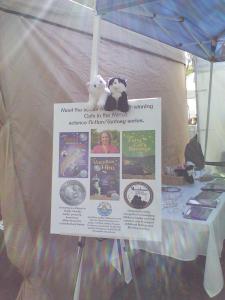 This is the event this sign was actually created for, and it did its job 100% by getting folks to stop and read and pay attention to what we had to offer. A huge part of a fair like this is just getting the throngs of people to even notice your booth.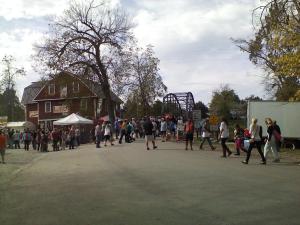 We had a great location on the first aisle across from the bridge. This is a low traffic moment when I could actually step out and get a photo. All day, each day, throngs of people crossed the bridge between the three sections. Honestly, if you are just shopping, you think it's all one big event.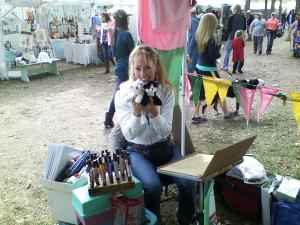 Across from our booth was a caricature artist named Dorinda, and when traffic was slow we enjoyed watching her create little works of art in just a few minutes. The reactions of the people getting them were priceless. What a great way to use your talent to bring some joy into the world! Also across the aisle was Regina Smith, a folk artist from Eureka Springs that we had never met. She left us with some bling for our booth, and Hiro's travel rep thought it was the perfect vantage point to watch the crowds.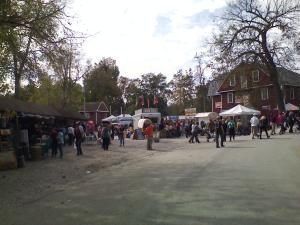 We were also just around the corner from the big food vendor section and had more food at the end of our row. It was perfect because nearly everyone gets some fair treats while they are there. We waited until the last day to indulge, which was good because I would have wanted more each day if I'd started out that way. On Sunday, Scott and I split a gyro and spanakopita. There was also the required meat on a stick, which was fantastic.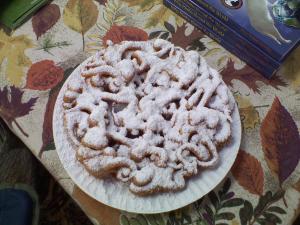 I'm beyond glad I waited until the very end of the last day to get a funnel cake, which they were selling at the end of our row with far too easy access. It was amazing, even though we were both covered with powdered sugar when it was gone.
The War Eagle Fall Craft Fair was well worth the time and energy that it took, and we are looking forward to being back again in the spring with one new book and next fall with one more new book!
Because there's never a dull weekend in the fall, just last Saturday (Oct. 25) we were part of the Greenwood, Arkansas Writers Unite Event benefiting Autism Speaks. There were 14 student authors who had put together a book of their stories, "Helping Hands: Volume 1," and the mayor came to give out awards for the overall winners.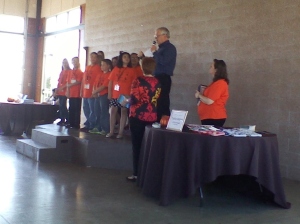 My spot was right next to my OWL and OCW friend Dusty Richards, and there were about 10 authors there overall.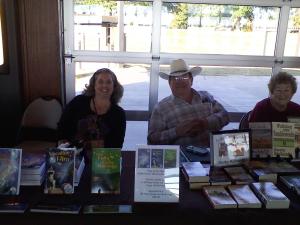 Dusty got his first photo op with Kimba and Hiro's travel reps, and he pretended to be a bit startled. I think he has seen those stuffed cats a few times over the last couple of years.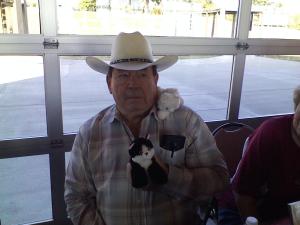 On my other side was a new author friend, Cal Davis, and his adorable picture book "I'm Just a Crow."  Cal ingratiated himself to me forever by passing on his raffle win: a kindle case with cats on it. After determining that it was not quite his style, he shared it with me because, let's face it, most anything with cats on it is exactly my style. I am even expecting a kindle for Christmas, so it's a perfect gift.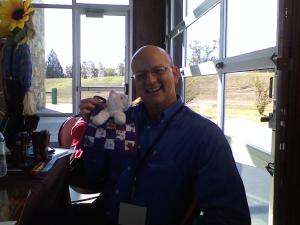 I'm grateful that the next couple of weeks are a bit calmer than the rest of the fall has been. We have a wedding here at the guest house, and there are a couple more book events ahead. Next up is the Washington County Pet Expo on November 8th. But I can see the winter and hours of quiet writing time on the horizon. Enjoy these last beautiful fall days!