Week 7: Book Releases and Production Scheduling
I have learned to approach a book release schedule in self-publishing rather like a wedding. Pick your date and then start planning at least six months in advance. This is if you self-publish and the book is already complete. Traditional publishing is more like a one year or more timeline. With only one book to focus on, you can move things along faster.
Since it is the book I have in production now, I can use "Max's Wild Night" as an example. The story was finished in November. That was a deadline I set because I wanted to officially launch the book on Max's 10th birthday: May 1, 2015. I have done that same type of thing with the books in the cat series, and I do lots of sales around the character's real birthdates. It serves no purpose but being fun, and it makes me happy. You may have other things that drive the dates related to your book release. I really had to push myself to get the final draft done (a retreat was involved), but I'm glad I did. The rest of the process would have fallen behind otherwise.
Here's basically how I have the self-publishing production process scheduled.
Book draft done by end of November.
Revision and editing done before Christmas vacation.
Beta readers doing their work over the vacation.
Time to let the book rest until mid-January. (Really. You need to step back.)
My final revisions/edits done by end of January.
Pause for income for guest house season to begin so I can pay contractors. This is important!
Manuscript to the editor by mid-February (already on her radar).
Cover design begun mid-February (already on her schedule).
Formatting & CreateSpace set up begins by the start of March.
Do newsletter offering free "Max" ebooks for reviews on Cats in the Mirror books & promoting new book as soon as cover is ready.
All drawings/photos done and in place by mid-March (spring break end).
Formatted book to ebook designer by late-March (after spring break).
Set up mini blog tour schedule by late-March.
Have paperback proof ordered from CreateSpace by first week in April, at the latest.
(Will there be a spring War Eagle Fair? Paperbacks will need to be ordered by second week in April to make it in time!)
Ebook versions ready for reviewers by second week in April.
Everything on amazon.com set up and ready to roll by April 24th.
Create book release online event through Facebook by April 26th.
Official book release on May 1st. Happy Birthday, Max!
You can certainly give yourself exact dates if that helps motivate you. I have just learned that some things along the way can slow plans down. Book cover design is a big one. If you have a good designer, chances are pretty high that they will have other projects going. You won't just be able to get yours back in two days. There is also some back and forth that may take a week or more once your project is started. We ended up having to delay the promotion of "Why Kimba Saved The World" by a few weeks because the designer we wanted was involved in another project. We had to wait our turn.
Getting your cover design going early is also important because you will need that cover to promote the book. It's much more effective to say "Here's my next book" and show a cool cover than it is to just talk about what the book will be. Your cover is your best marketing tool. That's another reason to make sure it is awesome.
So far I am on track for "Max's Wild Night." I had been in touch with both the editor and cover designer to let them know when I was expecting to send them their part of the book so I could get a note in their schedule and find out if there were any conflicts. That helps everyone involved if you have definite release dates in mind.
That being said, you don't have to make any special release dates. Odds are good you are not planning a physical book signing tour that needs dates set up months in advance. Linking to a holiday or personal event is just fun. It helps get you and others excited about the new book.
As far as the book release itself, don't go overboard. If you have a party, you will mostly get your friends and family, and they will probably buy your book anyhow. Facebook live events can be fun. Give away prizes, but I would steer away from giving away copies of the new book. If folks think they might win a copy, they won't buy a copy. By the time winners are announced, they will have moved on.
For the release of "At the Corner of Magnetic and Main" in September, we will be having a live event here on our property. First, I just want to have a party with my friends and fellow writers to celebrate. Second, the book is set locally and we have contacts in the business community. An event is a good chance to get the word out, get an article in the local papers, and sell some copies to people I might not have a chance to otherwise. I will also run an internet event that evening with video from the afternoon, including my live reading. That's a chance to spread the love to friends and family who cannot possibly attend the live party. I'm sure I'll be blogging about that when the time comes.
Just keep in mind that you are a very small publishing company of one. Don't throw lots of money at an event unless you can be sure it is worth it. Blog tours are a less expensive and easier way to spread the word about your book, as mentioned in an earlier post.
Celebrate sharing your book with the world!
In Two Weeks: Freebies, KDP, & Discount Promotions
I won't have time to blog next Monday because I'm attending the Ozark Writer's League quarterly meeting on Saturday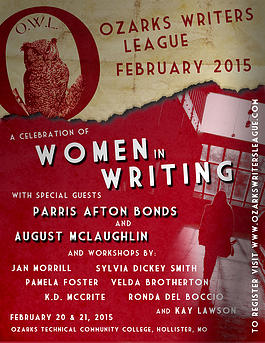 and the Oscars (also known as a high holiday in my home) are on Sunday. It doesn't really seem like anyone is reading these anyhow, so who will notice? I may blog about the OWL conference and some books I'm reading, but it won't be part of the series.
I am on track for my writing goal for the month of 10,000 words on "Kimba's Christmas," and editing, cover creation, and artwork are underway for "Max's Wild Night."  So let it snow. Just don't let us lose power. I'll keep writing.