Well, I'm exhausted, which is exactly how I should feel after two days and three nights of hanging out with wonderful authors from all over the area at the Ozark Creative Writers Conference.  There were fun workshops, but I think I spent far too much time just talking with the other writers there and hearing about their works in progress and stories from the year.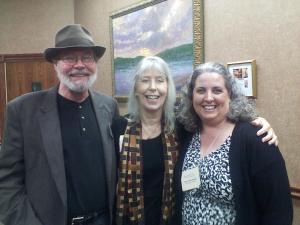 I got to spend some nice chunks of time kvetching with the lovely Duke and Kimberly Pennell of Pen-L Publishing, who will be producing my adult book "At The Corner of Magnetic and Main" next fall. That's the date we came up with for now at least. Can we call it an award-winning novel?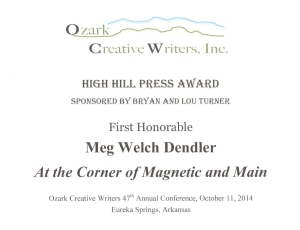 Well, it won an award at the conference for in the category of unpublished manuscripts from High Hill Press, but it was only First Honorable Mention (aka 4th place). I wouldn't want to be one of those authors that tries to make her work sound like more than it is. Maybe I'm just spoiled from having won a few First Place awards last year. Anything less was kind of disappointing. But, of course, you never know how many other people entered and what/who you were up against. I had honestly only entered this manuscript in the contest to catch the attention of the folks at High Hill Press and Pen-L Publishing. Since Pen-L already has it under contract, I guess I won the real prize I wanted in the end. Score!!
I also took home First Honorable Mention (4th place) in the Young Adult Short Story contest for an adapted version of "The Brave, Frail, and Delicate Princess." It is really more middle grade, so I was grateful it got anything at all. And they didn't do any other honorable mentions, which makes me think that they just wanted to be sure I got something for it. I'll take that as good, even if it's all in my head. This story definitely has legs to be developed into a nice middle grade book. I'll add it to the list of projects!
Then there was a Second Honorable Mention in the Flash Fiction contest for a little 100 word piece called "Justice." Considering the number of people who probably enter this quick category, I'll smile and say thank you for getting anything on that one. It was a fun one. Maybe I'll post it another time.
I only entered two of the other contest categories, so percentage-wise I did very well. Next year I'm taking over as a local contact and Conference Coordinator with the hotel since I live here in town, and "At The Corner of Magnetic and Main" will be hot off the presses. I doubt there will be any time to mess around with contests.
The fall fun continues on Wednesday night as we set up our booth at the War Eagle Fall Craft Fair, which runs Thursday to Sunday (Oct. 16-19). Literally thousands of people attend this event, but we have been gearing up and planning for it so we are ready. I just need to sleep for a day or two. I think I'll go find Cheetara for a nap/cuddle… because she will let me.