I'm thrilled to be the first stop in Stanley & Katrina's Book Blasty Tour for the new book "The Observations of the Obstreperous Animals" written by Felicia Maziarz, which has already received a 5 Star rating from Reader's Favorite.
My Reviewish Thoughts
Stanley the dog and Katrina von Cat the Master of Wisdom and Knowledge are the main characters and sort of authors of "The Observations of the Obstreperous Animals."
Obstreperous means "resisting control or restraint in a difficult manner; unruly" or "noisy and disruptive." I've been an English teacher and I had to look it up! What a great word. I wonder if that has been one of Stanley & Katrina's Words of the Week yet. Anyhow…
The book is more a series of sassy and silly anecdotes about Stanley & Katrina's lives and adventures instead of a full story. I found myself wondering how many of those stories had a little basis in fact, like the ones in my books.  Some chapters are from the perspective of one of the characters, and some from an all-knowing narrator (who is occasionally corrected by Katrina von Cat). I loved it and can see why it is getting such great ratings. I will be posting one myself on amazon.com today. 5 stars from me as well!
Kimba wanted me to be sure to mention that she felt that Katrina von Cat the Master of Wisdom and Knowledge was horribly maligned and mistreated throughout the book, and clearly Stanley and the owners do not understand that Katrina is not only a famous ice skating cat from Europe but she is also an alien — like all cats — and deserves more respect. She hopes Katrina will be the only star of any future books. Felicia can take that all with a grain of salt, as I'm sure she does with all advice coming from cats.
I should also offer huge congratulations to Felicia because on October 1 she won the Silver Award from the 2014 Moonbeam Children's Book Awards in the "Best Book by Youth Author (Under 18) for her first book (she was 9 when she wrote it), The Perpetual Papers of the Pack of Pets. Go Felicia!!
Celebrating
Stanley and Katrina von Cat the Master of Wisdom and Knowledge are celebrating the release of their second book, The Observations of the Obstreperous Animals, by hosting their very own "Book Blasty Tour". Thank you for taking the time to visit this special stop along their tour and be sure to enter the giveaway!
About the Book
Title: The Observations of the Obstreperous Animals
Authors: Stanley & Katrina, Pet Authors
Year published:  2014
Number of pages: 106
Recommended ages: 10+ Independent Readers; 5+ Read-Aloud
Summary (Amazon): Cat and dog. It is a love/hate relationship. Stanley and Katrina are back to share more humorous glimpses into their exciting lives in their second book via short stories. Yes, the pets are at it again but this time compete in a slam poetry contest, visit a pet psychic, and much more.This cat and dog writing team makes you stop and wonder what happens at your house when you're not there.
Book Preview Video
Click Here For The Video Preview!!
The Buzz
"All the animal snippets are very funny. If you like animals and a good laugh, this is the book for you." ~Carly K., Age 10
"Hilarious! Instantly became my favorite book!" ~Stephen E., Age 12
"You did it again! I loved reading about your crazy adventures!" ~Rachael S., Age 13
"Another one? How do they do this?" ~Stanley & Katrina's owners
About the Authors: Stanley & Katrina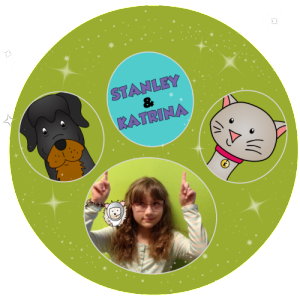 Stanley and Katrina are the pet authors of The Observations of the Obstreperous Animals.
Stanley is a three-year-old black Labrador/Rottweiler mix who does his best to ignore Katrina. Stanley enjoys snow, attention and turkey.
Katrina von Cat the Master of Wisdom and Knowledge is an eight-year-old grey tabby cat who loves her toy mouse.She enjoys treats, naps and bossing the dog around.
Neighbor Girl (Felicia) is the human who knows us (Stanley& Katrina) the best and helps us with everything. She loves writing, reading, acting, singing, reading gymnastics, doodling, reading, ice skating, painting, reading, doing computer stuff, oh… did we mention reading? She is the co-creator and co-host of "The Write Chat."
You may visit the entire gang online at www.StanleyAndKatrina.com.
* Free Printables For This Book! *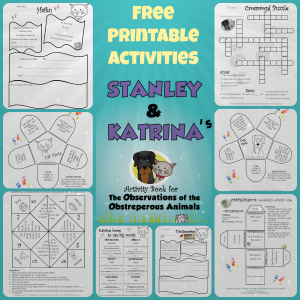 Kid Lit Printables has created fun and FREE printables for The Observations of the Obstreperous Animals and will be adding more in the future. Click here to view all available printables now.
Get the First Book in the Series Free
10/6 & 10/7/2014
The pets are offering their first book for free, via Amazon Kindle, the first two days of the Blog Tour. Click here to download Book 1 in the Stanley & Katrina series now.
Stanley & Katrina's
Book Blasty Tour Stops(2014)
*Denotes Book Review Stops
October 6
October 7
October 8
October 9
October 10
October 11
October 12
October 13
October 14
October 15
October 17
October 18
October 19
October 20
October 21
October 22
October 24
* $25 Book Blasty Tour Giveaway *
Prize: $25 Amazon Gift Card or PayPal cash (winner's choice)
Contest runs:October 6 to October 31, 11:59 pm, 2014
Open: Internationally
How to enter: Please enter by clicking here.
Terms and Conditions: A randomly drawn winner will be contacted by email within 48 hours after the giveaway ends. The winner will have 72 hours to respond. If the winner does not respond within 72 hours, a new draw will take place for a new winner. This giveaway is in no way associated with Facebook, Twitter, Google+, Pinterest or any other entity unless otherwise specified. If you have any additional questions, feel free to send us an email at stanleyandkatrina (at) gmail (dot) com.
* This giveaway is sponsored by the authors, Stanley & Katrina.*