At The Corner of Magnetic and Main is totally different than Meg's middle grade stories.
It's for grown-ups, first of all. And there's not a cat to be found anywhere in the story.
But there are some very confused and very stuck ghosts.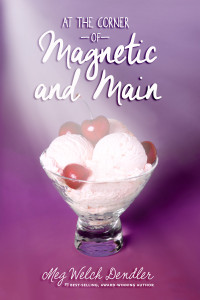 It's hard to get on with your life when you're already dead.

Penny had been stuck in the same diner for decades—ever since she died in 1952. Her diner was comfortable and safe. Serving ice cream to those who dropped in on their way to the next level of existence, she helped to ease their transition into The Light, the one place she can't go. Her afterlife was perfect. But when the ridiculously handsome, bad boy biker Jake Thatcher shows up and becomes stuck as well, Penny rediscovers feelings that she thought had been buried with her body. Life is still life, and love is still love. But was her existence really perfect, or was it something else entirely?
To find out more or purchase a copy:
Autographed Copies at Meg's Square Site
The corner of Magnetic and Main is an actual spot in Eureka Springs, Arkansas, and the diner there was the beginning of the inspiration for this story.